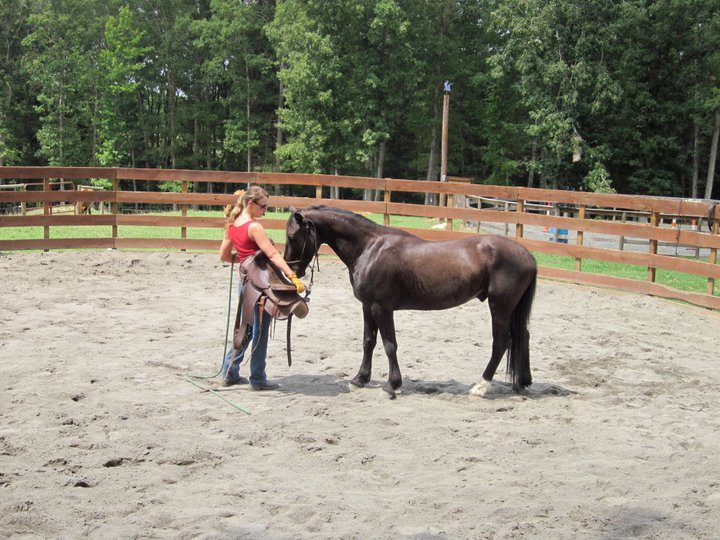 Wanted! Trainer to Start My 3-Year-Old Warm Blood
Words to a trainer's ear. But really, is the hunt worth the catch? Depends if you want to work twelve-hour days in the blistering heat or cold, wet, dirty, and many times sore from hitting the ground from that poor horse that's been passed from trainer to trainer until someone (i.e., you) took the time to help him sort things out. You spend your time wondering if the next horse is coming in as scheduled and hoping the last client's check clears the bank so you can make your rent or mortgage. These are all legitimate concerns for the trainer of today!
So you wanna be a trainer…?
As trainers, we ask ourselves time and time again, "Did I make the right choice?" For me, Bar T Horsemanship has been the most rewarding second career I think I could have picked after serving thirty years in the military! My entire life was surrounded by horses since the time I was 8-years-old. Living on a small farm in rural Chatham County in N.C., we always had horses. Though I didn't see it as an opportunity until later in life, I saw the rewards the horse could offer.
After deciding to train horse and rider for the public in 2004, I never dreamed it would have provided me the opportunities I've been blessed with. I've traveled all over the U.S. and Australia learning and teaching, with opportunities this year in Europe. I've had the opportunity to work with some of the greatest trainers in the world along the way, and met some fantastic horse enthusiasts as well.
…But do you have what it takes?
So, how does it begin? First, do you have a knack with horses that sets you apart from others? Do you understand your that your clients are both horse and human? Do you have your own training facility or access to one? Add to that list: safe lesson horses, great liability and health insurance, saddles to fit many sizes of riders, and the patience of a saint? A great understanding of horse health? How about the five steps of proper poop scooping?! A source of income when times are slow? Great management skills in finance, business, time, agriculture, and the psychology of people? The ability to read between the lines to understand not as much as what the client says, but what they mean? Have as much enthusiasm in the last lesson at 8 p.m. as you did in the morning? These are just a few traits that successful trainers utilize each day.
Did I have all these, not by a long shot! But, I did have the desire and support to always strive to be the best I could be in each of these areas.
With family support, friends to let me experiment on both them and their horses, and a small farm, I was ready to get started! But wait—first, I had to get the horse owner who never heard of Jim Thomas and Bar T Horsemanship interested in what we could offer.
Challenge yourself
In came the Extreme Mustang Makeover. I had already started a really nice mustang mare, Reba, here at the Bar T and folks were taking notice. Training wild horses? Who in his right mind would get one of those?! What a better way to expose our training style than through the inaugural Extreme Mustang Makeover in Fort Worth, Texas. Though there have been many since, the first one in 2007 was the greatest.
One hundred trainers, one hundred wild untouched mustangs, one hundred days! My mustang, Medicine Man, really helped put The Bar T on the map with all the media coverage he received, as well as his performance in Fort Worth. Yes, I could say mustangs in the beginning were a pivotal point in our growth. This in itself has given us a never-ending list of horses to start under saddle!
Seize opportunities
My first exposure to the public horse world was giving free problem-solving demos at local feed stores. I remember my first was setup by a friend during an open house for their business. I agreed to work with three horses, one hour each, addressing their issues. No pre-selection, just taking what stepped off the trailer.
Boy, what a day! As luck would have it, I had three of the best/worst horses one could ask for. Feet, loading, and finally catching. All went off without a hitch, and Bar T Horsemanship was on the way! Since that day we have continued to conduct free problem-solving clinics around the nation to continue spreading the training styles used here at Bar T Horsemanship. And, you may have even caught us at the 2014 N.C. State Fair where we were conducting obstacle demos.
Set your calendar
Next on the list? Clinics. The first couple were one-day free clinics in basic horsemanship. Through pony clubs and 4H, we had a never-ending means of students. This also taught me to be a bit more polite with people after many years in the Army. I changed—I mean, how could I not? You can't speak to an 11-year-old girl like you would a 30-year-old sergeant.
That has developed to a clinic schedule of nearly 20 clinics a year, each at or near capacity.  Conducting different types of clinics at various locations has expanded our reach into different disciplines. Initially, many thought a guy with a cowboy hat had very little to offer the Hunter/Jumper, Dressage rider, or so on. But, because we adapt each style to just good, basic horsemanship and understanding, as well as the learning styles of the horse, we have opened the door completely. We work with more dressage and jumping clients today than all the rest combined. And I still wear that hat and ride a saddle with a horn! (Most of the time)!
Grow
Bar T Horsemanship started as a family affaire. My daughter, son and I worked hand-in-hand with the demos, clinics and starting horses. It was hard but enjoyable work with long, sweaty, sunburnt days and lots of quality family time. But, as time went on, they had to leave the nest. Though they embarked on their own interests, they're still very much a part of Bar T Horsemanship, just don't play major roles in the day-to-day operation. Chapin, my son, is an AH-64 pilot for the Army National Guard. While sitting in the cockpit keeps him pretty occupied, you'll see him around a clinic or demo from time-to-time. Emily, my daughter, lives in FL with her Army husband. (If you're sensing a trend, you're right. Our family is all Army and horses.) She started her own equine marketing and consulting business, and has expanded Bar T Horsemanship's influence into the Sunshine State. We regularly conduct clinics, teach lessons and take in training horses on the Panhandle. Today, my day-to-day right hand is a young lady who has ridden with me for the past four years. You'll see Morgan scurrying around at nearly every clinic, demo or open house. Don't be afraid to ask her a question—she knows her stuff! Over the summers, we also accept interns.
As you consider how to move forward in your business, use these types of changes as opportunities to build your network. For example, it might have taken us a bit longer to branch out as far down south as FL, but we worked hard to get in front of folks as soon as Emily was plugged into the equine community in her area.
Never. Stop. Learning.
Our mission at Bar T Horsemanship is to continue learning by attending all types of clinics throughout the nation. If you're considering making a life as a trainer, I'd highly recommend you take this mission seriously as well! In the past year, I've attended seven clinics of different disciplines to continue strengthening my skills so I have more to offer my clients in helping their horses. Many times I'd like to stop taking in training horses and move directly to teaching individually and through clinics, but each new horse is a continued education. I've realized the journey with the horse is in learning and sharing; I hope you join in with me and our destination never arrives.